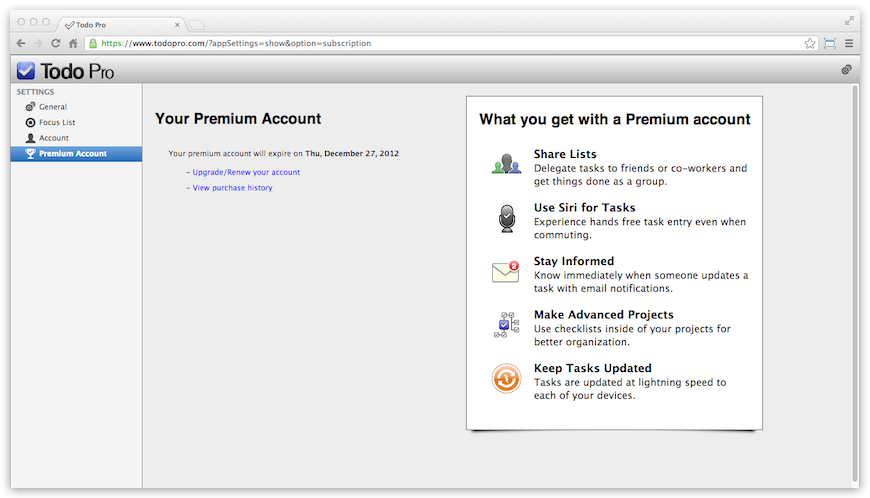 At the Todo Pro Website
It's easy to renew your account when logged in on the web; all you need is a valid credit/debit card. An added advantage of this method is that your account will automatically be billed when it's about to expire according to your initial payment. In other words, if you first pay for a month you'll automatically renew monthly. If you pay for a year, you'll save a few dollars and will only be charged annually.
If you haven't found it yet, here's how to get to the payment screen:
Log in at the Todo Cloud Web
In the upper-right of the interface, click the gear icon and then select settings
Once the settings open, select 'Premium Account' from the pane on the left
If your account will expire within six months you'll see a link to renew. If your account is good for more than six months, only your expiration date is displayed
While here you can also review your payment history. Any charges will be displayed, along with any applied gift codes
Alternatively, you can also use this direct link to the premium account page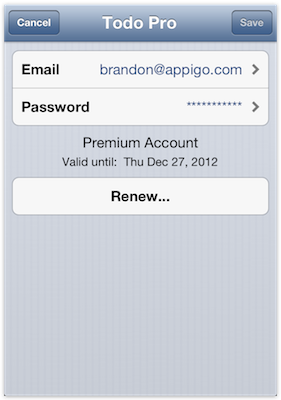 In the iOS Apps
It's also possible to pay for your premium account from within the iOS app. This allows you to pay as an in-app purchase using whatever payment method is associated with your Apple ID. However, since your personal information never reaches us when you use this method, we won't be able to automatically renew your account. Todo will let you know when your account is about to expire, but you'll need to manually pay for the extension.
Here's how to find the renewal screen in the apps:
Open Todo or Todo Pro, then open the app settings in the lower-right
In the Todo apps, select 'Synchronization' and then the 'Service' button at the top. If you're using Todo Pro, just select 'Account' from the Settings menu
If your account will expire within six months, you can use the 'Renew...' button to purchase. Otherwise, this button is disabled and only your account status is shown